Tesla Science Center at Wardenclyffe, Shoreham NY

Drive-In Movie Night at Wardenclyffe
Sat. June 20, 2020 (Rain date June 21)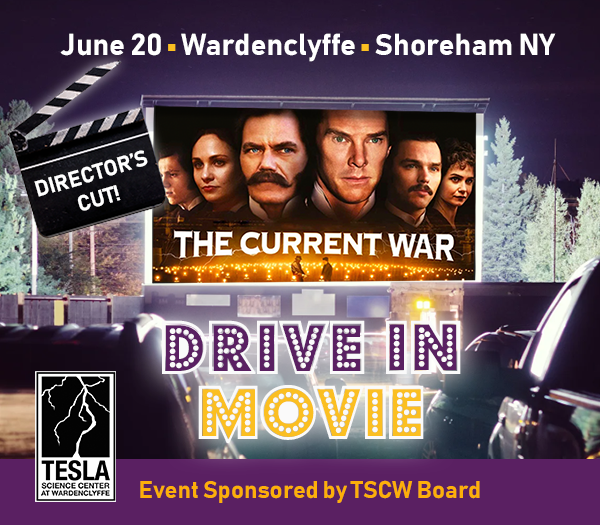 "Current War" comes to Wardenclyffe! The TSCW Board is sponsoring a special screening of the director's cut of this award-winning film for a Drive-in Movie Night! The epic War of the Currents comes to life on the big screen as Nikola Tesla, Thomas Edison, and George Westinghouse battle it out to determine AC over DC power and change history. It will be a thrilling night to see "Current War" at Wardenclyffe–plus, attendees will enjoy a fun pre-movie Trivia Game. Spots will go quickly, register early.
DATE: June 20, 2020 (Rain date June 21)
Time: 8:15 – 10:50pm

LOCATION: Tesla Science Center at Wardenclyffe 5 Randall, Shoreham NY 11786
$50 – Premium Spots – Members: Premium front spots with the best visibility are reserved for TSCW Members and members of Tesla Car Owners Club of NY, our valued Supporters and Volunteers for this event.
$40 – Standard Spots: Standard spots will provide a full view of the movie.
MOVIE GEAR: We're selling t-shirts with movie tickets! Order online when you purchase your tickets, and we'll have your t-shirt ready for you on arrival.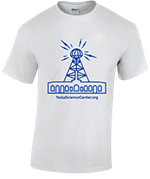 SOCIAL DISTANCING: Drive-in Movie Night at Wardenclyffe will follow safe-distancing guidelines for this event according to NY State requirements, including but not limited to: social distancing of cars in the lot, safe check-in procedures, Staff and Volunteer compliance, and on-site enforcement of minimum 6-feet distance between attendees.
"Current War" Trailer: https://youtu.be/kue18AxK1tU
Directed by: Alfonso Gomez-Rejon
Written by: Michael Mitnick
Starring:
Nicholas Hoult: Nikola Tesla
Benedict Cumberbatch: Thomas Edison
Michael Shannon: George Westinghouse
Matthew Macfadyen: JP Morgan
Tuppence Middleton: Mary Edison