TESLA SCIENCE CENTER AT WARDENCLYFFE
Shoreham, NY
Holiday Lighting at Wardenclyffe
Saturday, Dec. 7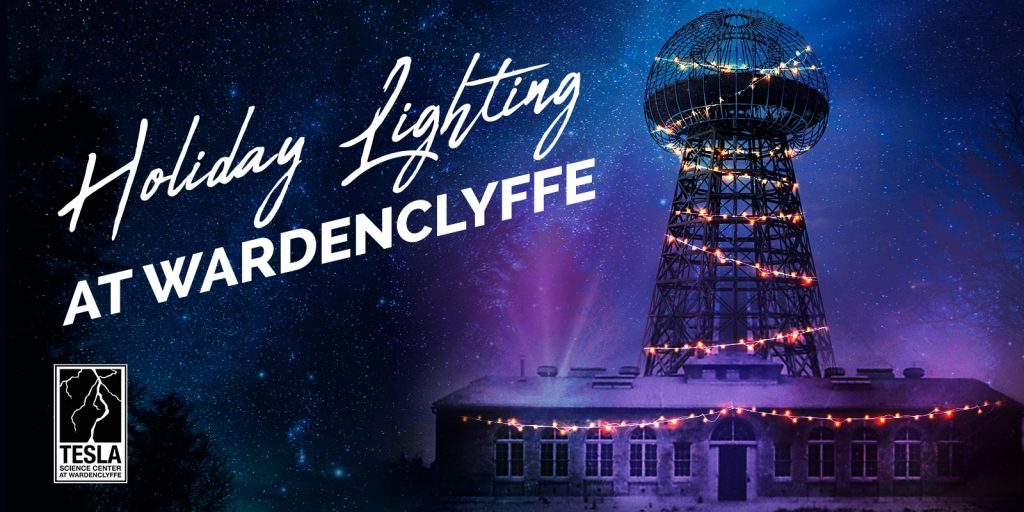 3 to 6 pm
Celebrate the season in electrifying style at our annual Holiday Lighting!  Get in the spirit with spectacular light displays, music, holiday activities for all ages–and special visit from Santa (photos encouraged). Plus, lots of Tesla gifts for holiday shoppers!
Sponsorship Opportunities:
Your Sponsorship reaches our global community through exciting and festive promotions before, during, and after the Holiday Lighting. We're already getting in the spirit through social media posts and e-blasts, and Sponsors will continue to be featured in digital marketing, highlight videos, radio and print ads, and PR.  There are numerous opportunities to shine at the Holiday Lighting by sponsoring entertainment, activities, refreshments, and more, plus you'll be spotlighted at the event itself as we live stream it across the globe. Our special Holiday Lighting video will be released after the event and Sponsors can share it as a holiday message to their own crowd.  Help us spread goodwill and support STEAM, education, TSCW, and Tesla's legacy.
$5,000 – ENTERTAINMENT
Sponsor the spectacular holiday light and music display with music/DJ, snow machine, photo booth. Includes signage on tower base where presentations are given, acknowledgment on website as top sponsor, recognition in social media postings.
$2,500 – COCOA & COOKIES
Be a sponsor of the popular Cocoa & Cookies tent and receive prominent signage at the refreshments area, acknowledgment on our website, and half-page ad in the Holiday Lighting Program.
$1,500 – KIDS FESTIVITIES STATION
Be the exclusive sponsor of the Kids Festivities Station that will offer crafts, menorah decorating, festive activities and holiday fun. Includes prominent signage at the event, acknowledgement on TSCW's website, and half-page ad in the Holiday Lighting Program.
$500 – TREE SPONSOR
Businesses and organizations can sponsor a tree to decorate with their team! Includes signage at event, posting of your Tesla Team Tree photo on our social media pages and website, and quarter-page ad in Holiday Lighting Program.
HOLIDAY RAFFLE SPONSOR
Donate a basket, gift certificate or items for our fundraising raffle! Promote your business or service while showing your support for community and TSCW. All Holiday Raffle Sponsors will be listed on our website and on signage that will be proudly displayed at the event.
PROGRAM SPONSORSHIPS
Place an ad in the official full-color Holiday Lighting at Wardenclyffe Program:
$500 FULL PAGE – 8″ x 10½"
$250 HALF-PAGE – 8″ x 5¼"
$150 QUARTER-PAGE – 3¾" x 5″
$75 BUSINESS CARD SIZE – 3½" x 2″
Exhibitors & Vendors
Spread goodwill and boost your business as a Vendor or Exhibitor at our popular Holiday Lighting on Sat. Dec. 7! Display your wares, goods, or services to guests. Non-profits and civic organizations are welcome – we love bringing the community together to celebrate the holidays and Tesla's special spirit of humanitarianism.
There's no cost to register to be a Vendor or Exhibitor!
VENDOR & EXHIBITOR REGISTRATION
Tree Decorating
TSCW offers a limited number of free trees for scout groups, non-profits, and families to decorate. Register early; very limited number of free trees available.