Online

Virtual Education Certification Program: NYIT and TSCW
Spring Dates TBA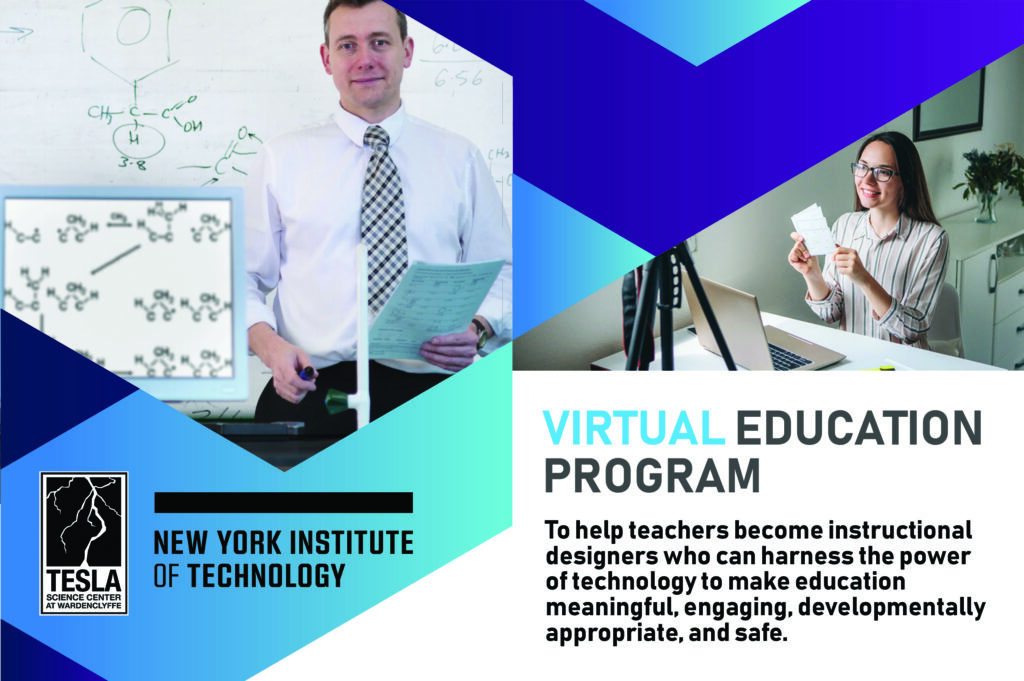 To help teachers become instructional designers who can harness the power of technology to make education meaningful, engaging, developmentally appropriate, and safe.
---
Spring Session: Date TBA
The Virtual Education Program offers a certification option plus an implementation program. These options are fully online and offered at a reduced tuition rate. All Virtual Education Programs are presented in asynchronous formats designed to address the needs of busy working professionals. Courses are project-based and aligned with the curricula participants teach in their schools to ensure relevance.
New York Tech Badge (Microcredential): 6-credit program that can be taken by non-matriculated students – Information and registration at: nyit.edu/arts_and_sciences/virtual_education_microcredential
TESLA Academy Virtual Education Innovators Program designed to help participants implement technology and innovative elearning solutions. This course features:
Tesla Academy Teachers Forum: Discussion and solution-focused forum featuring innovative yet practical tips from TSCW Staff and Advisors, including global thought leaders in education and technology.
STEAM Hacker: Session on creating and presenting engaging online classes using supplies found in most homes.
Tesla Academy Badge: Signifies your successful completion of the program and status as a Tesla Academy graduate. For use in signature lines, emails, resumes, web bios.
Tesla Academy T-shirt: Wear and share your achievement and unique status as a Tesla Academy alumni.
NOTE: No credits are offered for the TESLA Academy Virtual Education Innovators Program; this is a supplemental enrichment course.
---
What Master Teachers are saying about our Virtual Education Program:

"This course has armed me with the best practices of virtual learning and given me the confidence to better serve our students, not only during this pandemic but moving forward as the educational climate evolves.  I only wish I had taken this course earlier so that I would have been better prepared to teach remotely last spring."
Andrew Brockmann –  8th Grade Algebra, M.S. 88
Master Teacher Fellow, Math for America
"I'm a physics teacher in upstate New York in a public high school. I started out this summer feeling uneasy and ill-prepared to teach a robust course remotely.  I felt anxious and somewhat desperate to gain new strategies and skills before the start of school. The two courses I am taking, EDIT 652 and 654, have been immensely helpful in filling that need. The 654 course taught by Stan Silverman has been particularly helpful with the focus on practical skills to use immediately.
I started out thinking there was no way for me to teach physics in depth in an on-line platform successfully. As we wind up the course, I have gained skills, new strategies, resources, confidence and a more optimistic outlook for the fall."

Deborah F. Lynn – Ithaca High School
NY State Section AAPT Executive Board
NY State Master Teacher Southern Tier Region
---
FAQ
What is my expected commitment? The certification course covers a total of 75 hours of instruction (37.5 hours per 3 credits issued). You will typically spend 3 to 6 hours per week on course work.
What does asynchronous mean? Asynchronous means that most coursework is done at your own pace and submitted by a deadline without the need to attend pre-scheduled time classes. Assessment largely occurs via weekly benchmarks that are conducted asynchronously. This course blends asynchronous off-line time with occasional synchronous online time via pre-scheduled Zoom sessions to participate in spontaneous discussion.
What if I miss a Zoom session? Each session is recorded and will be provided if you can't attend.
What if I want to take my microcredential further? There is an advanced certification available through NYIT which is a graduate certification requiring an additional 6 credits and matriculation at NYIT. For information, go to:  https://www.nyit.edu/degrees/virtual_education_advanced_certificate
What do I need to participate? Good internet connection and a desktop computer.
What is the Refund Policy? For TSCW and NYIT Refund Policies, visit above link for the appropriate course.
Are these graduate credentials? Yes, this is a graduate program.
Can credentials be applied to the MISIT program from NYIT? Yes
Can I take this course if I do not have active classrooms? Yes!
Will the course be repeated? Yes, it is a regular offering.
Can the credits be applied to a degree? Yes.