Virtual
Online
6-Minute Tech Entertainment Experience
TSCW Global Gala 2020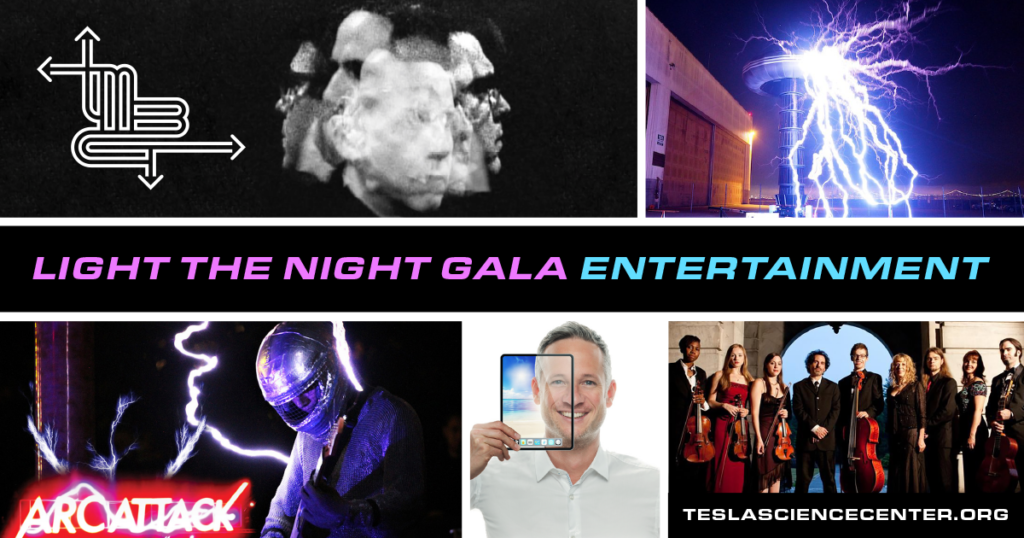 2020 Gala Video: A Creative Tech Experience
We pushed the boundaries of innovation for TSCW's 2nd Annual Global Gala to pay tribute to Nikola Tesla and our Honoree, Vint Cerf, "One of the Fathers of the Internet." The program was a unique mix of tech entertainment and demos, virtual magic, music, food and good will. Filmmaker and Tesla historian Joseph Sikorski captured it all in this fast-paced recap:
---
GALA HIGHLIGHTS: Music, Magic & Innovation!
Our entertainment program electrified the night with light, sound, energy, and inspiration!
Music by Alternative Rock Stars THEY MIGHT BE GIANTS
Interactive COOKING DEMO with BILLY OLIVA, Executive Chef of Historic Delmonico's Restaurant
Virtual Illusions by SIMON PIERRO
Hologram Presentation with 3D Visualization Effects by AUGMIND
Ethereal Classical Music by THE DIVINE HAND ENSEMBLE with Master Thereminist MANO DIVINA
Shockingly Cool Music and Light Show by ARCATTACK
Giant Tesla Coil and Wireless Innovation Demos by LIGHTNING ON DEMAND
---
GALA AUCTION: Thanks to all who bid to make an impact!
The Gala featured an auction of cutting-edge tech items, adventure and travel experiences, art and memorabilia, recreation, and more.
---
Congratulations SATYA SHARMA: Wardenclyffe Brick Recipient
Our warmest thanks and congratulations to supporter Satya Sharma, winner of an original brick from Wardenclyffe laboratory! The names of all Gala guests were entered in a random drawing to receive a brick that was recently reclaimed during renovations to the chimney. The circa 1901 brick is a special piece of history that symbolizes Wardenclyffe's permanence and the enduring strength of Tesla's legacy.
The support and generosity we received from the Gala supports TSCW's mission to develop the site of Nikola Tesla's last remaining laboratory into a transformative global science center that embraces his bold spirit of invention, provides innovative learning experiences, fosters the advancement of new technologies, and preserves his legacy in the Tesla Museum.
---
TSCW gratefully acknowledges our 2020 GALA SPONSORS
---
2019 Gala Highlights and Inspirational Videos
Highlights from A Night for Tesla & Wardenclyffe
Tesla Science Center Testimonial – Peter Klein
Tesla Science Center Testimonial – Greg Olsen
Tesla Science Center Testimonial – Joseph Campolo
Sponsors of Tesla Science Center's First Annual Gala
Get Involved: Help build the Tesla Science Center