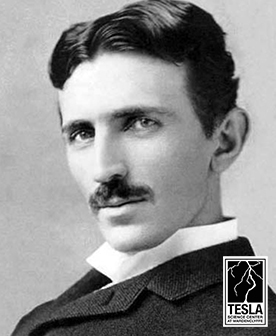 Nikola Tesla:
Engineering a Better World
"An inventor's endeavor is essentially lifesaving. Whether he harnesses forces, improves devices, or provides new comforts and conveniences, he is adding to the safety of our existence."
It's hard to imagine what life would be like without our electrical grid system, powering everything from lights and appliances to computers and businesses using safe, efficient, and affordable alternating current electricity. Or how different the world would be without the benefits of wi-fi, radio, remote controls, and robotics. These and many other advancements were based on the inventions of one of history's greatest scientists and humanitarians: Nikola Tesla.
Tesla's Life of Discovery
By the time Nikola Tesla was six years old, he had already started experimenting and inventing. His keen interest in nature and the way things work, combined with intelligence and curiosity, led to childhood inventions such as a motor powered by June bugs, air piston gun, and frog catching device. In elementary school he built water turbines and dreamed of using Niagara Falls to generate power, a dream that he saw come to life in 1896. As a young man, Tesla excelled in his studies of math, physics, engineering, and science. At one of his first jobs at the Budapest Telephone Exchange, Tesla improved the equipment and developed an amplifier; soon after, while working at another job installing lights in Paris, Tesla made improvements to Edison's dynamos and created an automatic regulator.
Upon reaching America in 1884 at the age of 28, Tesla continued developing his concepts and applied for his first patent in 1888. He continued inventing and by the time of his death in 1943, Nikola Tesla held almost 300 patents. Tesla's lifelong dedication to harnessing the forces of nature for the benefit of humanity is a legacy that continues to benefit the world today.
Pivotal Moments
Explore the most defining moments of Nikola Tesla's life in our Tesla Timeline. This interactive history provides an inspiring overview of the challenges and triumphs of one of the world's most influential inventors. Our Tesla Timeline is an evolving history that continues to grow with researched details, images, and writings being added regularly. Visit often for inspiration and knowledge!
---
Tesla – Part One
By Rodo Sofranac
Born in Montenegro not far from Nikola Tesla's birthplace, Rodo Sofranac is a writer, educator, TSCW supporter, and board member of the American Slavic Association
Is it a car? Is it a battery? Is a gigafactory? Is it an international airport?
Well, yes. But long before his name was used by various commercial enterprises, Tesla was a person—a Slavic person. Yes, that's right, Nikola Tesla was a person, a pioneer, a pauper, a genius. There is so much to say about Tesla, that one article can't do it justice.
Read Part 1 here.