Welcome to Wardenclyffe!
Tours of Wardenclyffe are conducted at certain events throughout the year, and on specially scheduled tour dates. Since these are walking tours of the grounds outside of Wardenclyffe laboratory, they are normally held from May through October during the best weather months in Shoreham, New York.
Learn more about our progress to date restoring this historic site.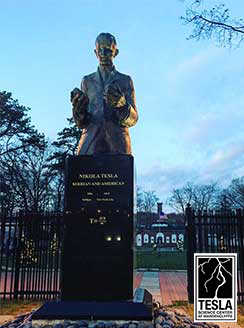 Since our restoration of the grounds, some elements of Wardenclyffe are now visible from outside of the fence:
• Tower base where Tesla's iconic transmitting tower once stood at 187 feet tall
• The brick laboratory building
• Statue of Nikola Tesla donated by the People's Republic of Serbia
• Two information kiosks outside the fence by the statue provide additional information and photos
Programs & Annual Events at TSCW
Explore upcoming educational programs and other events