TESLA SCIENCE CENTER AT WARDENCLYFFE
SHOREHAM, NY
Halloween at Wardenclyffe
Saturday, October 26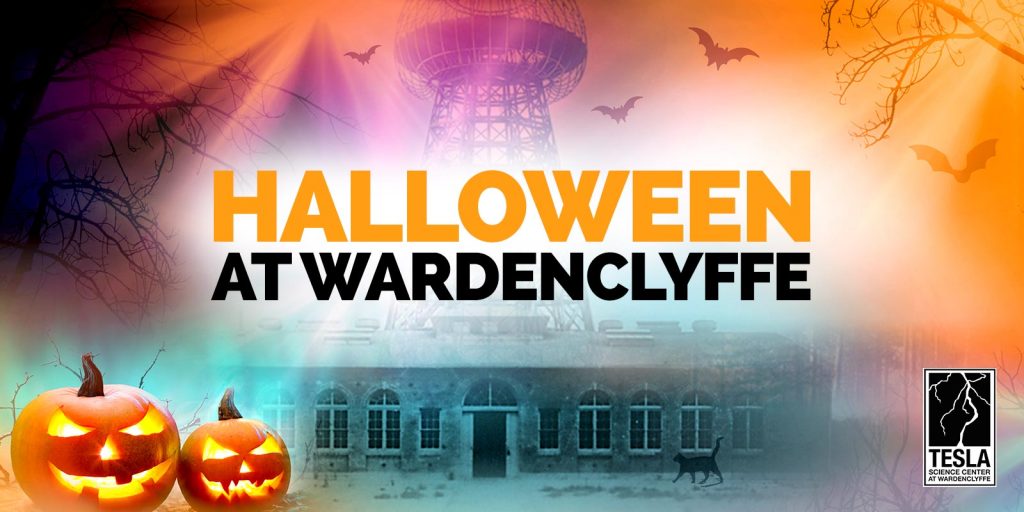 A supercharged Halloween celebration like no other
Featuring the wonders of Nikola Tesla – Master of Technology and Wizard of Electricity
DATE: Saturday, October 26
PLACE: Tesla Science Center at Wardenclyffe, 5 Randall Road, Shoreham, NY 11786
4:00-7:30 pm: Exhibits, activities, food, fun!
5:00 pm: Science & Tech Costume Contest
5:30 pm: Q&A with film writer Rob Lieber
5:50-7:30 pm: Goosebumps 2 Haunted Halloween film screening featuring Q&A with film writer Rob Lieber
---
Other Activities Include:
• Wizards of Electricity Showcase
• Mysteries of Wardenclyffe  Storytelling
• Neon Laboratory
• Kids Halloween Activities
• Entertainment, Food and Vendors
• Jack O'lectric Contest
Science & Tech Costume Contest!
Enter our contest with a STEM theme in honor of Tesla! Come dressed in sci-fi, gamer, steampunk, robotic or other creative costume. WINNERS in the following categories will go home with a bag of TSCW treats!
Categories:
Most Innovative – The costume that dazzles our judges with its ingenuity and creativity
Most Tesla-fied – The costume that most relates to Nikola Tesla and/or his inventions
Best Team Costume – Get in the spirit as a group or couple
Best Youth Costume – Most creative sci-tech costume, kids 12 and under
How to Enter:
From 4:00-4:45 pm, go to the Bricks for Nik Plaza and fill out an entry form at the Costume Contest table. At 4:45 pm, report to Bricks for Nik Plaza for the contest!
Jack O'lectric Contest!
Enter our inventive pumpkin contest!  Bring a pumpkin that you've carved or decorated. The most electrifying, sci-tech, inventive pumpkins win a bag of TSCW treats!
How to Enter:
Between 4:00 to 4:45 pm, bring your pumpkin to the Bricks for Nik Plaza. Fill out an entry form and we'll put your pumpkin on display until the contest at 5:15 pm.
TICKET OFFERS:
Purchase tickets by October 15 to be entered in raffle for a night's stay at Danfords Hotel in Port Jefferson
Purchase 10 or more tickets to receive a glow-in-the-dark Tesla t-shirt OR Tesla bobblehead
$15 Non-Member, $13 Seniors/Students, $10 Members (ages 13+), $5 Youth (ages 5-12), Free under 5
Are you a TSCW member?
Grab your discounted tickets here: