Online &
In-Person at TSCW
Tesla Birthday Bash 2020
Saturday, July 11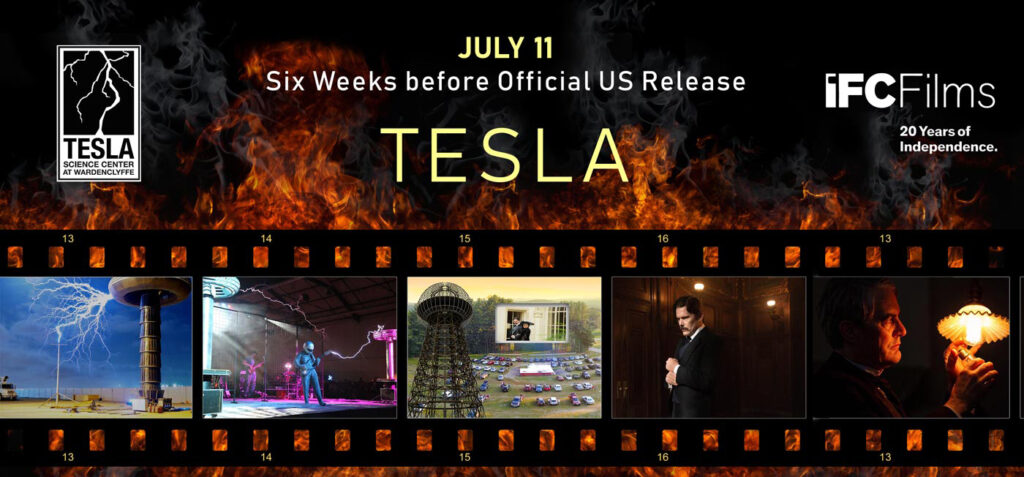 Tesla Science Center at Wardenclyffe Proudly Presents an IFC Films Production: TESLA
Proceeds from every ticket purchase will help provide virtual education for those in critical need. THANK YOU for your generous support!
Online Screening & Drive-in Movie Night at Wardenclyffe
---
VIDEO HIGHLIGHTS
We wonder how Nikola Tesla would have felt to see the global gathering that took place on July 11 in honor of his 164th birthday. The grounds surrounding Tesla's Wardenclyffe laboratory were buzzing with guests, some of who arrived in Tesla cars, excited to see an advance screening of the IFC Films movie named after him. TESLA was also screened online to a worldwide audience with a pre-movie show that featured a giant coil demo by Lightning on Demand and an electric musical performance by ArcAttack. The film's writer and director, Michael Almereyda, as well as stars Ethan Hawke and Kyle MacLachlan, interacted with guests during a live Q&A that revealed often surprising details about Tesla himself as well as the movie's inspiration, research, filming, and acting.  Tesla was a lifetime learner and it seems fitting that we focused on giving the gift of learning in his honor at this year's Tesla Birthday Bash. Please enjoy this special video recap of TSCW's Tesla Birthday Bash with our deepest thanks and appreciation for your support.