Tesla Science Center @ Wardenclyffe
Shoreham, NY
Tesla Birthday Expo 2018
Saturday, July 14, 2018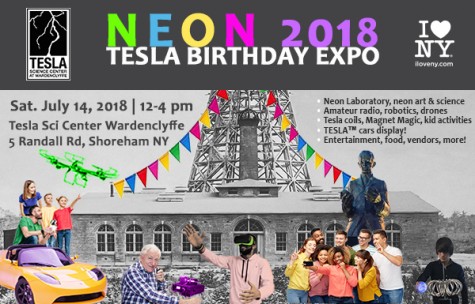 Electrify your summer! Explore science at the Tesla Birthday Expo with an extravaganza of robots, radio, electricity, virtual reality, Neon Laboratory, and more!
BUY TICKETS: $15 Adults (13 and up), $5 Youth (5–12), Free for under 5.
PSEG Long Island's Tower Of Power—Unique Entertainment, Presentations, Music, and Exhibits
Keynote Speaker: Greg Olsen—Inspiration on Tesla & Technology from Astronaut, Inventor & Entrepreneur Greg Olsen
Robots—Life-Size Star Wars Droids, Robotics League Demos
Tesla Neon Laboratory—Dark Space Aglow with Neon Science and Art by Clayton Orehek
Augmented Reality—Step Into the Future with Yetzer Studio's Fantastic Technology
TESLA Motors Car Exhibit—Including Roadster, Model X, and new Model 3
Amateur Radio—Past, Present, and Future of Radio
Vintage Photography—Tintype Photography in Action; and Have Your Portrait Taken at Wardenclyffe!
Interactive Exhibits—Singing Tesla Coils, Magic of Magnets, Kids' Activity Stations, and more
PLUS some of Long Island's best food trucks, vendors and sponsor offerings!