Online

Summer STEAM Camp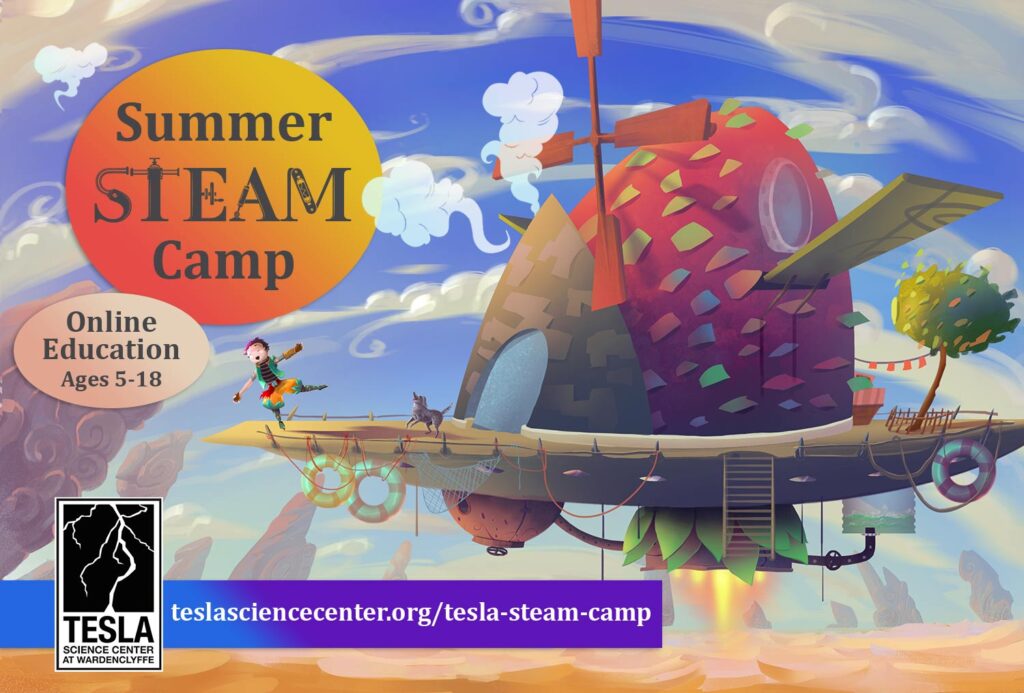 Summer STEAM Camp
Hello friends. I'm Hannah Weiss, the new Director of Education at TSCW and I am so excited to kick off my first summer with the Center by introducing virtual STEAM education that is cutting-edge, safe, and fun.
Summer 2020 is going to be unlike any we have known, and I know that many of us will miss summer opportunities just as we missed the end of the school year. While it's true that Summer STEAM Camp will not be in person, our programming is full of innovative and imaginative activities that will excite your camper about exploring STEAM. Campers will have both face-to-face virtual interactions and self-guided challenges that make use of screen-free time. Digital learning is now more important then ever and summer experiences like these are necessary to fight not just the summer slide, but the COVID slide as well.
Below are details about Summer STEAM Camp, but if you don't find the info you need, feel free to email us at: info@teslasciencecenter.org.  I look forward to meeting your camper and enriching their summer with some STEAM-y educational fun!
— Hannah
---
How does virtual camp work? Summer STEAM Camp is a virtual education program that offers a mix of online and offline experiences.
Your child can participate in online portions from anywhere internet is available.
When campers are offline and engaged in self-guided activiities, they are encouraged to work indoors or out with safe distancing in mind.
Synchronous programming is combined with self-guided activities and regular check-ins throughout the process.
Campers will be asked to submit completed or in-progress work to promote engagement and participation.
---
How does my child attend STEAM Camp? Once you register, we email a log-in link and instructions so you and your child can easily join other campers online. You'll also receive info on a platform such as padlet or Nearpod that is used to organize challenges, guidance, Zoom rooms, and any additional material.
---
What supplies are needed? Most sessions require basic supplies found in most homes (supply list is provided).  Tech equipment for Youth Coding and Green Energy Camps are included with the fee (shipping additional).
---
What is the STEAM Camp Schedule?
YOUTH Schedule
Monday, Wednesday, Friday
11:00 am – 12:00 pm: Meet, connect, explore!
12:00 pm – 1:00 pm:  Offline for camp projects, lunch break
1:00 pm:  Optional check-in
3:00 pm – 4:00 pm: Afternoon meetup – Share, discuss, learn!
Tuesday and Thursday
Campers will work at their own pace on challenges given the day before.
---
Maker Adventure Week
July 6-10 | Ages 5-11
Calling all young DIYers and craft enthusiasts! We're embarking on a Maker Adventure where you can design and create projects beyond your wildest dreams!
$40 Members / $50 Regular
Member Registration Regular Registration
Entrepreneur Camp
July 13-17 | Ages 5-11
Do you have an amazing business or product idea, but don't know how to start? Our youth incubator can help! Explore how to get a business off the ground, create a prototype, and pitch it to real-life entrepreneurs at our end-of-camp STEAM Tank.
$40 Members / $50 Regular
Member Registration Regular Registration
Teen Python Camp
July 20-31 (2 wks) | Ages 12-18 | M-F 3:30-5:30 pm
Do you have a game design you can't wait to bring to life? Make your vision a reality as we delve into python and examine the code necessary to build your own game!
$100 Members / $125 Regular
Member Registration Regular Registration
Youth Coding Camp
August 3-7 | Ages 5-11
Have you ever wanted to create a wearable device, design your own game controller or even invent sensors? Explore these possibilities and more with Micro:bit. Camp fees include a Micro:bit and alligator clips (shipping addt'l).
$75 Members / $90 Regular Price includes Micro:bit and clips
Member Registration Regular Registration
Green Energy Camp
Aug. 10-14 | Ages 5-11
Green energy is our future! Explore fundamentals of harvesting wind, water, and solar energy. Build a solar car, use water and wind to lift weights, and design an invention to solve an energy problem. Fees include solar car kit.
$60 Members / $75 Regular
Member Registration Regular Registration
---
More electrifyingly fun and educational STEAM Camp classes are being invented!  Sign up to receive info on upcoming classes and other programs and events. Email us at: info@teslasciencecenter.org