Gallery North
Setauket, NY
Tesla Tech Art Camp
August 19 – 23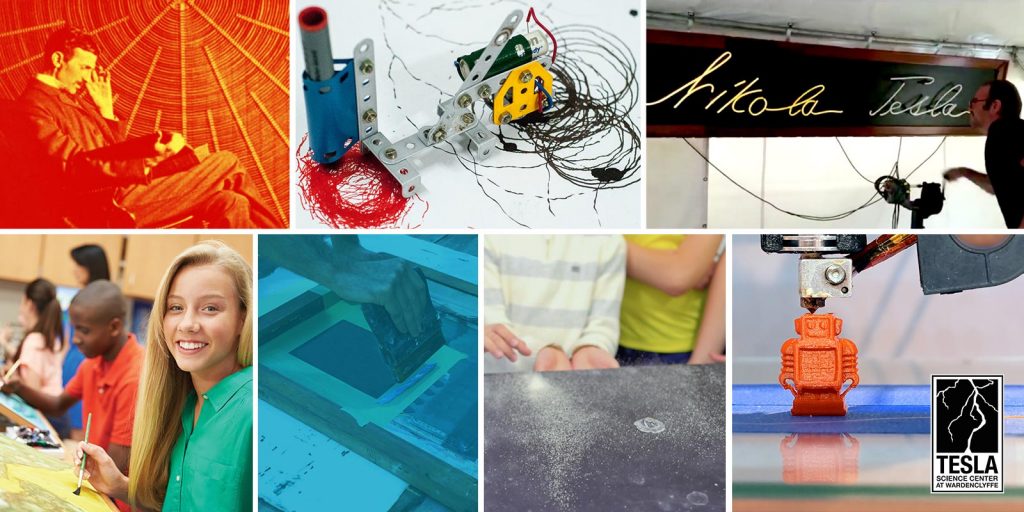 Introducing TESLA TECH ART CAMP, presented by TSCW and The Studio at Gallery North!
Join us for an electrifying new camp experience for students aged 10 – 18!
Discover the connections between art and technology! Inspired by inventor and creative genius Nikola Tesla, this week-long program will encourage students to take thoughtful risks as we explore the Design Thinking process. Science, Technology, Engineering, Art and Math will form the educational and inspirational foundation behind everything created at Tesla Tech Art Camp!
Each day we will connect technology with art in the creation of Idea Journals.
HIGHLIGHTS INCLUDE:
Draw Bots – Using robotics to create collaborative art
Cymatics – Create amazing art through the science of sound
Silkscreen Tech – The art of silkscreening combined with augmented reality
Neon Art – Explore neon art and blacklighting
3D Printing – Creating tech art sculptures
August 19 – 23 (Mon-Fri) 9:00 am – 3:00 pm
Ages 10 to 18 years
$500 for the week (All materials included!)
$100 daily rate
NOTE: Sibling discount available. Please call Gallery North directly to register siblings: (631) 751-2676
Space is limited. Due to the nature of our projects, this program caps at 15 students!
All materials are included, along with a sketchbook and ArtVentures t-shirt for each attendee. Snack is provided to fuel creative minds. Please bring your own bagged lunch.