Oskar Blues Brewery
Austin, TX
TSCW brings Tesla to Texas – "Tower to the People" Screening
March 10, 2019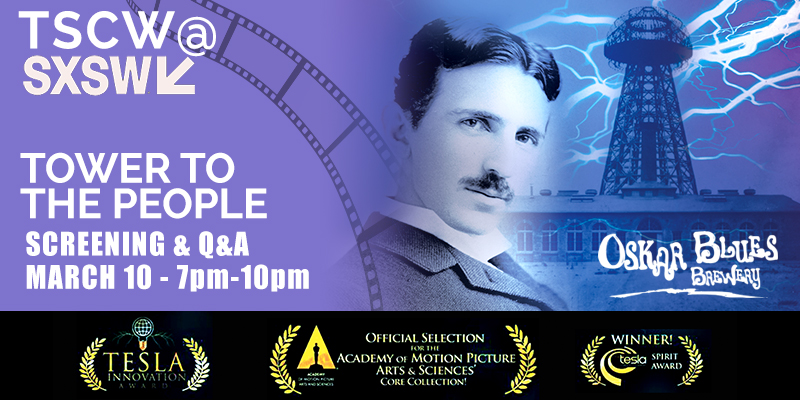 Tower to the People Film Screening and Live Q&A
Presented by Tesla Science Center at Wardenclyffe; hosted by Oskar Blues Brewery, 10420 Metric Blvd., Austin TX 78758.
Sunday, March 10, 2019 • 7:00 – 10:00 pm
Discover the history and mystery behind Nikola Tesla's famed transmitting tower at Wardenclyffe laboratory, as told in the award-winning film Tower to the People. After the film, participate in a thought-provoking Q&A with Marc Alessi, Executive Director of TSCW, where we'll explore the past, present, and future of Tesla's only remaining laboratory in the world.
All proceeds to benefit Tesla Science Center at Wardenclyffe.
VIP Ticket
Includes admission to the film screening and live Q&A, two (2) beverage tickets for Oskar Blues Brewery craft beer or soft drinks, and delicious BBQ buffet by Wunderpig.
$50 minimum donation ($40 for TSCW Members)
Tesla Fan Ticket
Includes admission to the film screening and live Q&A, one (1) beverage ticket for an Oskar Blues Brewery craft beer or soft drink.
$25 minimum donation ($15 for TSCW Members)
About the film:
Tower to the People is a tragic, yet ultimately inspirational story about Nikola Tesla's most ambitious experiment for humanity. Using a mysterious tower at a laboratory called Wardenclyffe, Tesla dreamed of sending free wireless energy to any point on the globe. His hopes were crushed by the greed, rivalries and ambivalence of the day's corporate titans. Generations later, however, the world would unite to correct the historical injustice and help preserve the inventor's legacy using technology Tesla himself helped develop. The documentary about Tesla's last laboratory on the planet, called Wardenclyffe, is an important true story about science, history and community.
"The best film about Tesla that I have ever seen."

"Sikorski's thought-provoking film shows the history of a man and his inventions, but what makes his film brilliant is that he puts the power back into the hands of the people and shows them that collectively they can make a change that corporate interests won't allow."

"Be prepared to be amazed by this film."
Attention SXSW Attendees
How did a fledgling non-profit launch a record-breaking crowdfund?
What energized 33,000 people from 108 countries to donate millions to save an inventor's derelict laboratory?
Find out at "Collaborating for Success the Wardenclyffe Way," a presentation at SXSW by Marc Alessi, Executive Director of the Tesla Science Center at Wardenclyffe. Learn how the global tech community teamed up through crowdfunding to save Wardenclyffe, the last remaining laboratory of famed inventor Nikola Tesla. Discover new ways technologists, entrepreneurs, and venture capitalists are collaborating at Wardenclyffe and within the startup and technology world. Become an active participant in the collaboration process at Wardenclyffe as the group discusses future projects, partnerships, and ideas for the science center.

Collaborating for Success the Wardenclyffe Way
(a Tech Industry & Enterprise track)
March 10, 2019 • 5:00-6:00 pm
Hilton Austin Downtown – Salon G