Gallery North
Setauket, NY
"Tower to the People" Screening + Director Q&A
Saturday, August 24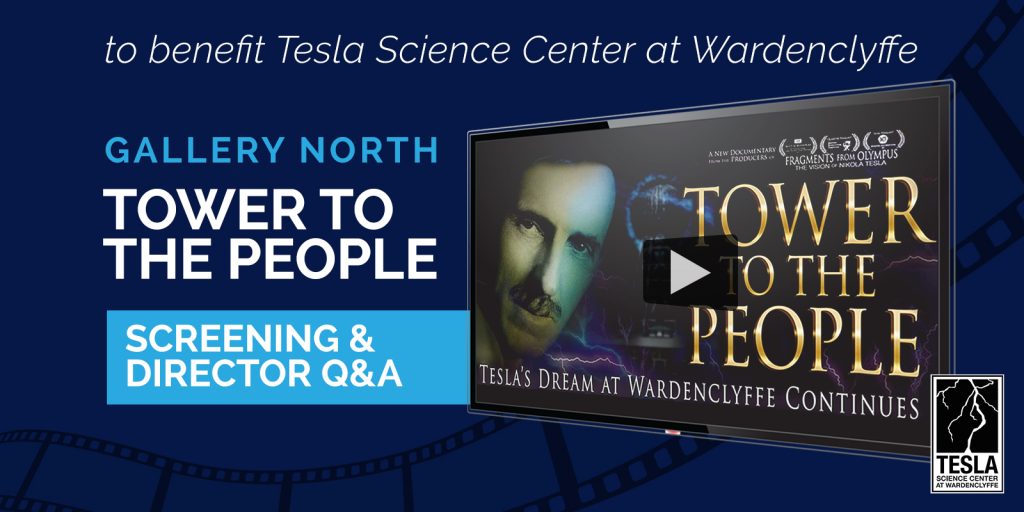 Screening, catered reception and exclusive Q&A with director Joseph Sikorski
Presented by Tesla Science Center at Wardenclyffe; hosted by Gallery North.
Saturday, August 24
6:30 – 7:30 PM: Welcome reception with catered refreshments and exhibit preview
7:30 – 9:00 PM: Screening of Tower to the People
9:00 – 9:30 PM: Q&A with Director Joseph Sikorski
Gallery North
90 North Country Road,
East Setauket, NY 11733
Join us for a unique interactive evening where attendees will explore the remarkable true story of inventor Nikola Tesla's experiments at Wardenclyffe laboratory— including his famed 18-story transmitting tower — as told in the award-winning film Tower to the People. Following the film, attendees will participate in a thought-provoking Q&A with director Joseph Sikorski. The evening will feature a wine reception with catered refreshments and exciting preview exhibits inspired by Tesla's inventions.
Your ticket purchase will support our mission at TSCW to build a global science center at the site of Nikola Tesla's only remaining laboratory that continues his legacy of innovation and humanitarianism through education, research and entrepreneurship.
Are you a TSCW member, Student, or Senior?
Grab your discounted tickets here:
About the film:
Tower to the People is a tragic, yet ultimately inspirational story about Nikola Tesla's most ambitious experiment for humanity. Using a mysterious tower at a laboratory called Wardenclyffe, Tesla dreamed of sending free wireless energy to any point on the globe. His hopes were crushed by the greed, rivalries and ambivalence of the day's corporate titans. Generations later, however, the world would unite to correct the historical injustice and help preserve the inventor's legacy using technology Tesla himself helped develop. The documentary about Tesla's last laboratory on the planet, called Wardenclyffe, is an important true story about science, history and community.
"The best film about Tesla that I have ever seen."

"Sikorski's thought-provoking film shows the history of a man and his inventions, but what makes his film brilliant is that he puts the power back into the hands of the people and shows them that collectively they can make a change that corporate interests won't allow."

"Be prepared to be amazed by this film."
{ "@context": "http://schema.org", "@type": "Event", "name": "Tesla Movie Night", "startDate": "2019-08-24T18:30", "endDate": "2019-08-24T21:30", "location": { "@type": "Place", "name": "Gallery North", "address": { "@type": "PostalAddress", "streetAddress": "90 N Country Road", "addressLocality": "East Setauket", "postalCode": "11733", "addressRegion": "NY", "addressCountry": "US" } }, "image": [ "https://teslasciencecenter.org/wp-content/uploads/2019/08/TSC7652-TowerToThePeople.jpg", "https://teslasciencecenter.org/wp-content/uploads/2019/08/TSC8117-TowerToPeopleSocial-FbEventHeader-1.jpg" ], "description": "Join us for a screening of Tower to the People, which explores the life of Nikola Tesla and his groundbreaking Wardenclyffe experiments.", "offers": { "@type": "Offer", "url": " https://teslasciencecenter.org/events/tower-to-the-people-gallery-north", "price": "55", "priceCurrency": "USD", "availability": "https://schema.org/InStock", "validFrom": "2019-08-24T21:30" }, "performer": { "@type": "PerformingGroup", "name": "Tesla Science Center at Wardenclyffe" } }