Cinema Arts Centre
Huntington, NY
"Tower to the People" Screening + Director Q&A
February 28, 2019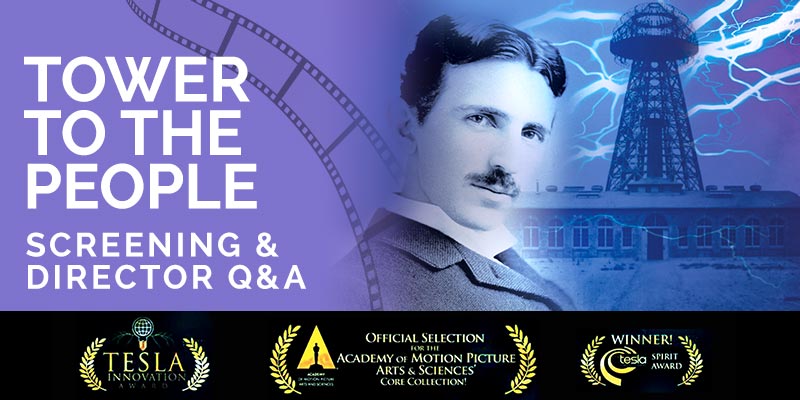 Screening, catered reception and exclusive Q&A with director Joseph Sikorski
Presented by Tesla Science Center at Wardenclyffe; hosted by Huntington Cinema Arts Centre.
Thursday, February 28
7–9:30pm EST
Screening followed by exclusive director Q&A and catered reception!
All proceeds to benefit Tesla Science Center at Wardenclyffe.
Are you a TSCW member, Student, or Senior?
Grab your discounted tickets here:
About the film:
Tower to the People is a tragic, yet ultimately inspirational story about Nikola Tesla's most ambitious experiment for humanity. Using a mysterious tower at a laboratory called Wardenclyffe, Tesla dreamed of sending free wireless energy to any point on the globe. His hopes were crushed by the greed, rivalries and ambivalence of the day's corporate titans. Generations later, however, the world would unite to correct the historical injustice and help preserve the inventor's legacy using technology Tesla himself helped develop. The documentary about Tesla's last laboratory on the planet, called Wardenclyffe, is an important true story about science, history and community.
"The best film about Tesla that I have ever seen."

"Sikorski's thought-provoking film shows the history of a man and his inventions, but what makes his film brilliant is that he puts the power back into the hands of the people and shows them that collectively they can make a change that corporate interests won't allow."

"Be prepared to be amazed by this film."