Create special summer memories through learning
August 03, 2020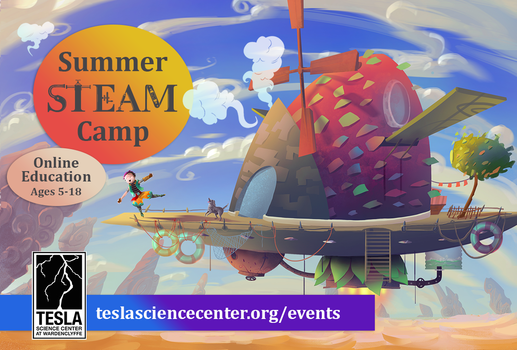 Posted by Macaroni Kid. Read original article here.
Remember the creative jolt you got from making slime as a kid, or hours spent laughing and learning while exploding a baking soda "volcano" in the backyard?  These experiences created not only happy memories, but powerful lessons in STEAM. You can recreate the magic for your child during the remaining weeks of summer with ideas for mixing STEAM education with exciting fun.
One of the most memorable summer learning experiences for any kid is camp. Unfortunately, due to covid concerns and social-distancing, most camps closed for the summer of 2020. This is doubly unfortunate in that parents and educators are struggling to stay on top of both the summer slide and covid slide, making summer camp even more critical. Thankfully there are options for parents who want to enrich their child's learning through a special camp experience.  For example, Tesla Science Center at Wardenclyffe provides online Summer STEAM Camp to offer kids an exciting, connective, and fun educational adventure.  Campers meet online under the guidance of an experienced educator to attend theme camps like Youth Coding and Green Energy Camp. Here are some details:
Youth Coding Camp
August 3-7 | Ages 5-11
$75 Members / $90 Regular
Have you ever wanted to create a wearable device, design your own game controller or even invent sensors? Explore these possibilities and more with Micro:bit. Fees include a Micro:bit and alligator clips (shipping addt'l).
Green Energy Camp
Aug. 10-14 | Ages 5-11
$60 Members / $75 Regular
Green energy is our future! Explore fundamentals of harvesting wind, water, and solar energy. Build a solar car, use water and wind to lift weights, and design an invention to solve an energy problem. Fees include solar car kit (shipping addt'l).
Spaces limited, register early at: https://teslasciencecenter.org/events/tesla-steam-camp/

Part of what makes STEAM Camp such great summer fun is the hands-on explorations into nature, science, and tech. Imagine how a kid's view of the hot summer sun will change when they create a solar car powered by those rays of energy.  Or the depth of understanding that comes from not only playing a computer game, but coding one of your own design. STEAM Camp employs innovative tech-based learning to help kids make that vital connection.  Other hands-on activities make creative use of common household items to stimulate ingenuity and resourcefulness—but don't think all of this educational power means less fun.  Take a look at these awesomely entertaining activities you can do at home to tap into the power of Summer STEAM Camp.
Bottle Rockets:  https://youtu.be/0-FbmCVFIB4
Magic Cup:  https://youtu.be/UCs5XDPOtA4
Kitchen Fireworks:  https://youtu.be/8m6q__Cic3U
Density Drink:   https://youtu.be/1735NSvcIXA
Fire Extinguisher:  https://youtu.be/YBz1VkgnQcY
Enjoy creating magic and happy memories during these last STEAM-y days of summer while enriching your child's education and growth.  Info and registration for Summer STEAM Camp and other events from Tesla Science Center at Wardenclyffe:  teslasciencecenter.org