Long Island's diverse history emerges through Robert David Lion Gardiner Foundation grant to Tesla Science Center at Wardenclyffe
January 21, 2020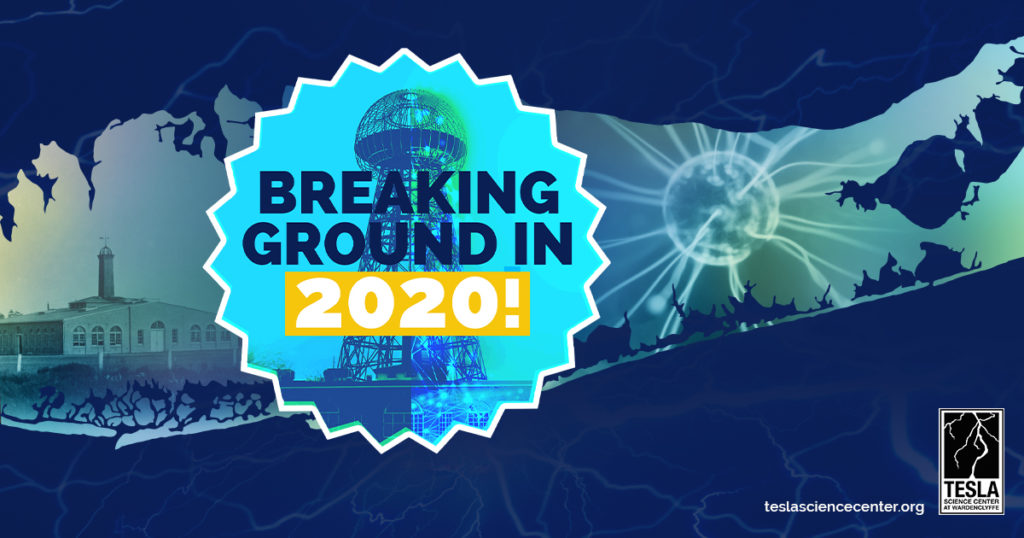 Shoreham, NY, January 21, 2020 — Tesla Science Center at Wardenclyffe (TSCW) announces that it is the recipient of a $168,188.50 grant from the Robert David Lion Gardiner Foundation (RDLG Foundation) that will be used to help renovate Wardenclyffe, the last remaining laboratory of the renowned inventor Nikola Tesla, into a museum and global center for education and innovation.
The RDLG Foundation is dedicated to preserving Long Island's history and Wardenclyffe plays a unique role in this area. In 1900 Nikola Tesla bought 200 acres in Shoreham, NY, from land owner James Warden and named the site Wardenclyffe in tribute.  Tesla commissioned the firm of his friend, esteemed architect Stanford White, to build a brick laboratory and 187-foot transmitting tower on the site. The project was financed by JP Morgan with the intent of building a Radio City that would transmit information wirelessly around the world. Tesla envisioned transmitting electrical power from Wardenclyffe as well.  However, the project was closed in 1903 when JP Morgan withdrew funding; the tower was eventually dismantled in 1917 and sold for scrap to settle Tesla's debt. Wardenclyffe was used commercially for over 50 years, then vacated and listed for sale in 2012. The site was acquired by TSCW in 2013 after a record-breaking crowdfund raised the purchase money.
Wardenclyffe was placed on the US National Historic Register in 2018 after receiving another record number of endorsements from around the world.  The site plays an important role in the history of Long Island and technology. According to TSCW's Executive Director, Marc Alessi, "Tesla invented radio and was a pioneer in wireless communications that started on Long Island. The generous grant from the Robert David Lion Gardiner Foundation will not only help preserve this history but continue it for the benefit of present and future generations."
"The story of Tesla Science Center at Wardenclyffe makes it one of the key sites in technology history, not only in America, but on the worldwide stage," notes Kathryn M. Curran, Executive Director of the Robert David Lion Gardiner Foundation.  "Long Island's and New York's historic role in the advancement of science, through inventions and innovations, has yet to be fully appreciated. Cold Spring Harbor Laboratory, Brookhaven National Laboratory, and TSCW should be linked in a regional historic technology trail, starting locally and continuing to embrace all of New York State. The historic roles of Long Island's aero and space industries, communications, science, and health achievements need to be united and recognized for the impact each has had on civilization."
The RDLG Foundation grant will be used for critical construction work on Tesla's historic brick laboratory building; specifically, the funds will pay for the restoration of the building's distinctive cupola and chimney, two important features of the laboratory.
TSCW is a non-profit 501(c) organization with a mission to establish a global center at the site of Nikola Tesla's only remaining laboratory that will preserve, restore, and advance Tesla's legacy of invention and perseverance through education and innovation. For more information, contact TSCW at (631) 886-2632 or info@teslasciencecenter.org or go to www.teslasciencecenter.org.