Wardenclyffe Nomination for Historic Registers Receives Record Number of Endorsements
June 14, 2018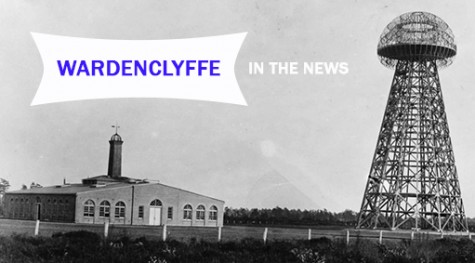 On June 7, 2018, the Review Board for the NY State Division of Historic Preservation voted unanimously to recommend Wardenclyffe Laboratory for nomination to the State and National Registers of Historic Places. The Tesla Science Center at Wardenclyffe (TSCW) applied for the nomination to ensure the preservation of Wardenclyffe, built by scientist and humanitarian Nikola Tesla. TSCW announced the pending nomination on May 30, 2018, and within one week over 9,500 endorsements were submitted by individuals, organizations and public officials from around the world.
The 16-acre Wardenclyffe site in Shoreham, NY, retains historic importance as Nikola Tesla's only remaining laboratory. Tesla was a prodigious inventor whose discoveries led to significant advancements in science and technology. His system of alternating current (A/C) electricity is the basis for the modern electric grid, and he holds over 300 patents for concepts such as the induction motor, x-ray technology, fluorescent lighting, radio, and wireless technology. This last invention was the focus of Tesla's work at Wardenclyffe from 1901 to 1906 and culminated in the construction of a 187-foot wireless transmitting tower which was erected in front of Wardenclyffe laboratory.
Both the brick laboratory and tower were built by Tesla's friend, renowned architect Stanford White, an association that enhances the site's historic value. Although the tower was dismantled in 1917, the large octagonal tower base remains, as does the original brick lab building.
Wardenclyffe's application for historic register status included evaluation by a historic architect consultant who researched the site to determine each building's age, background and relevance. His findings were presented in a 92-page document that was reviewed by the State and National Review Board. Since purchasing Wardenclyffe in 2013, TSCW has worked to move forward with plans to renovate the site and develop it into a science museum and center for education and research, and inclusion in the State and National Historic Registers is a critical step toward achieving this mission. According to TSCW President Jane Alcorn, "Listing on the state and national historic registers not only preserves Wardenclyffe and Tesla's legacy, but it enables us to qualify for grants and funding. Also, historic evaluation was required before renovations could continue. It's a lengthy process that required perseverance, but now we're excited to move forward on plans for restoring Wardenclyffe into a world science center."
By the end of June 2018, the Wardenclyffe district will be formally listed on the State Register. Official listing on the National Register is pending approval by the National Park Service.