Stony Brook University
Stony Brook, NY
Teslamania 2018!
October 20, 2018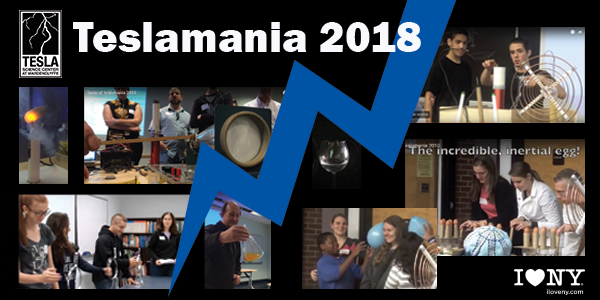 What is Teslamania?
Teslamania is day of demonstrations in which physics teachers, students, scientists and enthusiasts can showcase their ideas, inventions and activities for improving physics education and student engagement. It's structured as a competition, and each year an Omega title is awarded to the winner.
But Teslamania is much more than a physics demonstration competition; it's day of sharing ideas, making and strengthening professional relationships, connecting with your community and celebrating physics!
Who can participate?
Teachers who specialize in introductory physics/physical science courses at the Secondary, College and University levels are invited to participate. Teachers who attend or demonstrate will earn six hours of professional development credit.
Students of all kinds are welcome!  We encourage students to attend or present.
Attend as a Spectator ($25) — As an attendee, you will be able to learn new "tricks of the trade" and network with local physics teachers. Spectators can also bring "mystery" lab equipment to our "What is it?" session and learn what it does.
Participate as a Demonstrator ($18) — Demonstrators give a 15-minute presentation. Your presentation can be a completely new idea, or an innovative take on a classic concept. The best presentation, as determined by the audience, wins the 2018 Omega title.
Parking: Located directly outside the Life Sciences Building, in the metered lot (there is no parking charge on Saturdays).
Lunch:  A lunch of assorted sandwiches and water will be provided as part of your registration fee.
Past Omega Winners
2008 – Sean McCorkle – "Antique Van de Graff"
2009 – Tom Tomazsewski – "Light My Fire"
2010 – Kilian Cardo – "Tesla Coil!"
2011 – Gillian Winters – "Seeing is Believing"
2012 – Pavithra Sundar – "Projectile Droplets"
2013 – Greg Guido & Karyn Libretto – "Sound Demonstrations"
2014 – Rich Slesinski – "Kumar's Bed of Nails"
2015 – Terese Keogh – "Disappearing Paper"
2016 – Justin King – "Color Filter Fun"
2017 – Richard Gearns – "Filament Physics"