Online

"Tower to the People" Webcast (Q&A Only)
February 28, 2019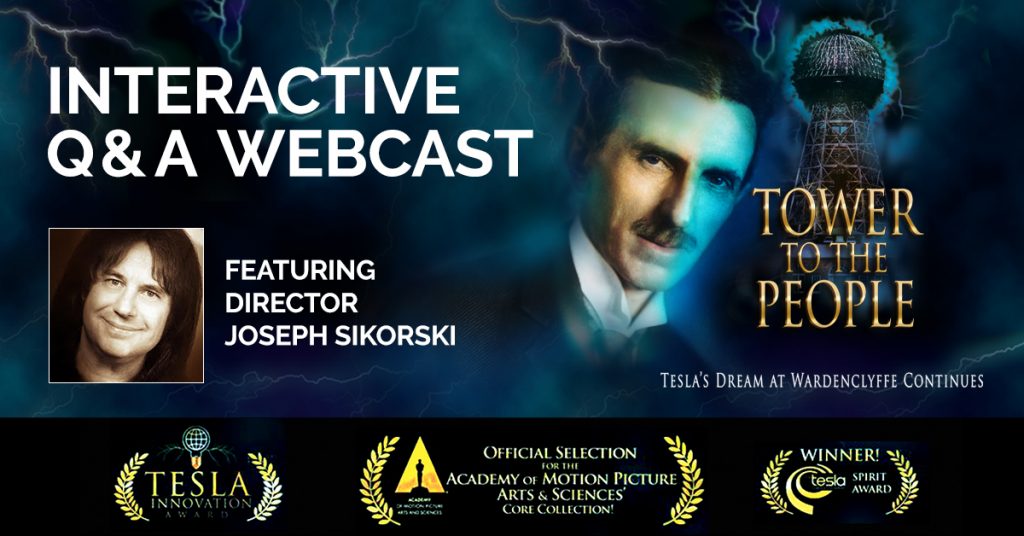 Exclusive online Q&A with director Joseph Sikorski
Presented by Tesla Science Center at Wardenclyffe; hosted by Huntington Cinema Arts Centre.
Thursday, February 28
9pm EST
All proceeds to benefit Tesla Science Center at Wardenclyffe.
Join us for an interactive live stream of our Q&A session with Tower to the People director Joseph Sikorski, starting at 9pm EST after the screening of the film. This exclusive webcast will be interactive, giving all the participants a chance to submit questions about the film, Nikola Tesla and Wardenclyffe.
Are you a TSCW member?
It's FREE for TSWC members, you just have to register!
Watch the film before the Q&A:
Purchase DVDs and Blurays on TowertothePeople.com
Streaming in North America:
Stream instantly on Amazon, iTunes, Google Play, Vimeo or VHX
Streaming Worldwide:
Stream the film on VHX (Serbo-Croation subtitles available!)
About the film:
Tower to the People is a tragic, yet ultimately inspirational story about Nikola Tesla's most ambitious experiment for humanity. Using a mysterious tower at a laboratory called Wardenclyffe, Tesla dreamed of sending free wireless energy to any point on the globe. His hopes were crushed by the greed, rivalries and ambivalence of the day's corporate titans. Generations later, however, the world would unite to correct the historical injustice and help preserve the inventor's legacy using technology Tesla himself helped develop. The documentary about Tesla's last laboratory on the planet, called Wardenclyffe, is an important true story about science, history and community.