Birth of Nikola Tesla
1856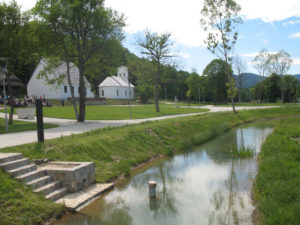 Nikola Milutinov Tesla was born in the small rural village of Smiljan in what is modern-day Croatia. He was born at the stroke of midnight on July 10, 1856, during an electrical storm—a prophetic beginning for the child who was to become known as the Father of Electricity.
Tesla's father, Milutin Tesla (1819-1879), was an Eastern Orthodox priest as well as a teacher and poet. He served in Smiljan, the village where Nikola was born, before moving the family to Gospic, Lika, where he was parish priest until his death at age 60. In his autobiography, Tesla described his father's keen mental abilities and training exercises: "These daily lessons were intended to strengthen memory and reason and especially to develop the critical sense, and were undoubtedly very beneficial."
Tesla's mother Georgina-Djuka (Mandic) Tesla (1822-1892) descended from one of the oldest families in Lika, known for their inventiveness and intelligence. Although she was illiterate, Djuka could memorize lengthy works of literature. She was also a master bead worker and toolmaker who encouraged her son to invent. Tesla wrote of Djuka: "My mother was an inventor of the first order… She invented and constructed all kinds of tools and devices and wove the finest designs from thread which was spun by her."
Nikola Tesla had four siblings: older brother Dane, older sisters Milka and Angelina, and younger sister Marica. Dane was born first in 1848 and was considered extremely gifted with a genius level intellect. Tragically, Dane died at age 15 from injuries inflicted by the family's horse, an accident that young Nikola witnessed. His older sister Milka, born about 1850, married Vukasin Glumicic and they had one daughter, Gina. Milka's date of death is uncertain.
Tesla's sister Angelina lived a long and active life. Born about 1853, Angelina married Jovo Trbojevic and had five children. Her grandson William Terbo was an accomplished engineer, author and lecturer who lived in the US and was dedicated to preserving his granduncle's legacy until his recent death in August 2018.
Marica Tesla (1858-1938) is often remembered as being one of Nikola's favorite relatives. Marica married Nikola Kosanovic and had five children. Their son Sava Kosanovic was a Yugoslavian diplomat and one of the few family members who was able to spend time with Tesla in his later years.
Pivotal Moments in Nikola Tesla's Life
Explore the inventor's most influential moments and discoveries using our interactive Tesla Timeline.
HOVER OVER ANY OF THE DATES TO READ MORE